I recently had the pleasure of working with an absolutely delightful family that had moved to MN from the Raleigh, NC area due to a job transfer to 3M. They bought a lovely home in the Powers Lake neighborhood of Woodbury. Their new home had great structure and personality, but it was ready for some updates and needed a touch of this family's vibrant personality!  They really like color, which made me very excited because so many clients are terrified of color and tend to stick to all neutrals. Even better, Shannon LOVES pink (insert my squeal with delight!!) I knew we were going to have a lot of fun with this project!
One of the biggest challenges for this remodel was this large two story great room that featured a fireplace wall with a drab outdated tile surround and cabinetry that was screaming "update me please!" We also had the challenge of incorporating the client's existing furniture which was a very pretty, but fairly bold denim blue color. I wanted to add color and vibrancy into the entire room without looking too crazy!
Before:  Two Story Great Room 
After:  Two Story Great Room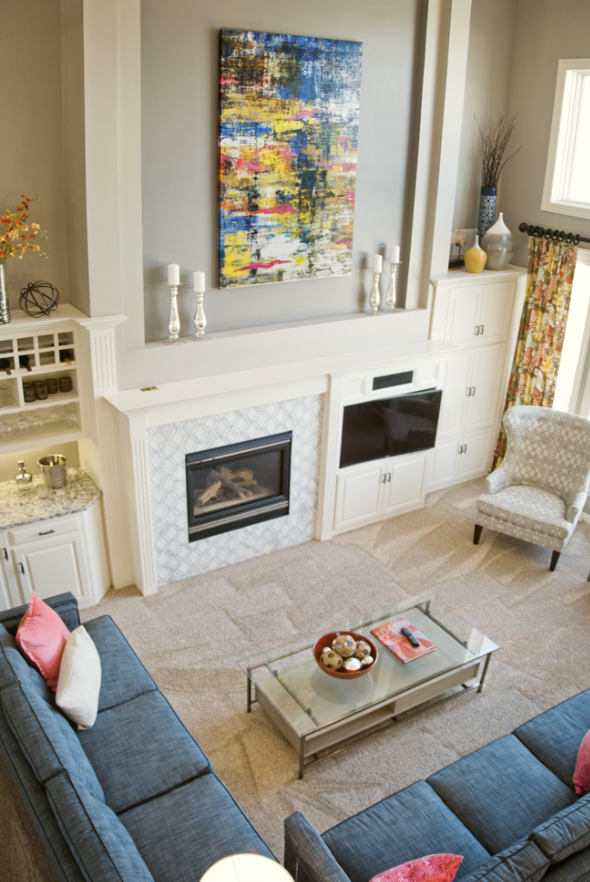 FIREPLACE WALL
As you can see in the before photos, this wall was begging to be updated! The tile surround was drab and the cabinetry needed some love.  The paint colors were a little dark and heavy. We began by updating the cabinetry. Woodworking by Chuck began by creating custom cabinetry to provide a seemless and more stable built-in television area. Then we had Chuck add a bar/entertaining area to the left of the fireplace. We added a built-in beverage center, custom wine rack and new quartz countertop.  It is now a beautiful entertainment area that flows beautifully with the entire wall.  I was so excited to put the finishing touches on this large wall by adding a beautiful Carrara marble tile to frame the fireplace. The marble tile adds shine, texture and a beautiful design element to this wall. I also lightened up the paint colors to 2 shades of a warm gray. The inset of the fireplace alcove was painted slightly darker to highlight the architecture.
TWO STORY GREAT ROOM
With any two story room, the trick is to make it feel cozy and inviting instead of cavernous!   Changing the dark painted walls to a neutral color helped brighten up the room.  Redesigning the fireplace wall was one step in creating interest at eye level. Our second step was to add a focal point above the fireplace. We decided to add a fun, colorful piece of artwork. Our goal was to bring the colors of the client's existing denim blue sofas as well as adding yellow and pink/salmon (the client's favorite color). I found this amazing piece of artwork that was perfect except for the fact that it was missing pink. I decided to get my "Picasso" on and added a little pink paint to it myself! The client loved it and it was a great focal point that tied all of the colors together.   Lesson – don't be afraid to jazz up something yourself with a little paint!  We also added custom drapery panels to bring in color, pattern and Southern charm.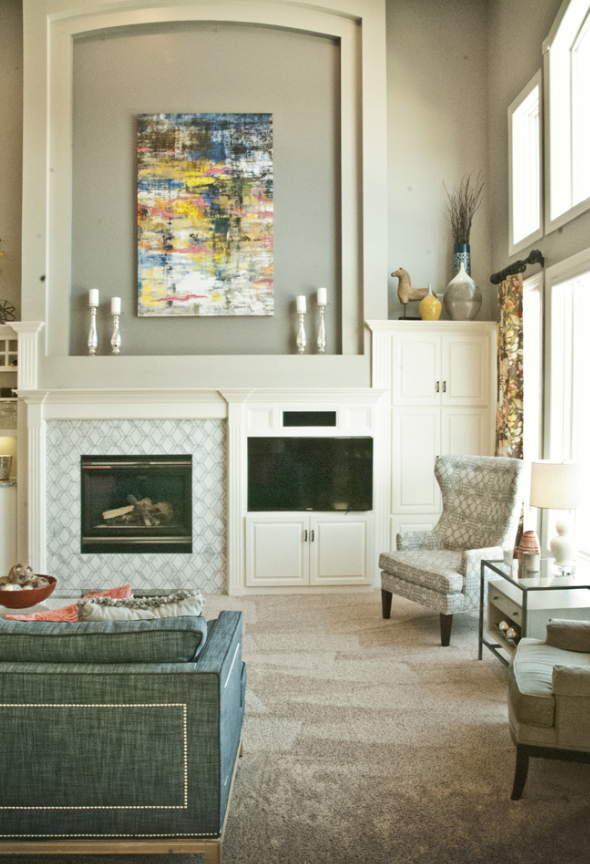 POWER OF PINK
As I mentioned before, my client loves pink but she definitely did NOT the mauve countertop in the powder room.  We updated to a custom white cabinet with a beautiful Carrara marble countertop.  Graphic patterned wallpaper from Schumacher creates a wow factor in a small space like this powder room.  We added some southern bling with beautiful crystal sconces flanking the mirror.   Accessories in shades of pink and aqua carry the color theme throughout the home.
Before:  Mauve Powder Room                                After:  Powder Room Pizazz!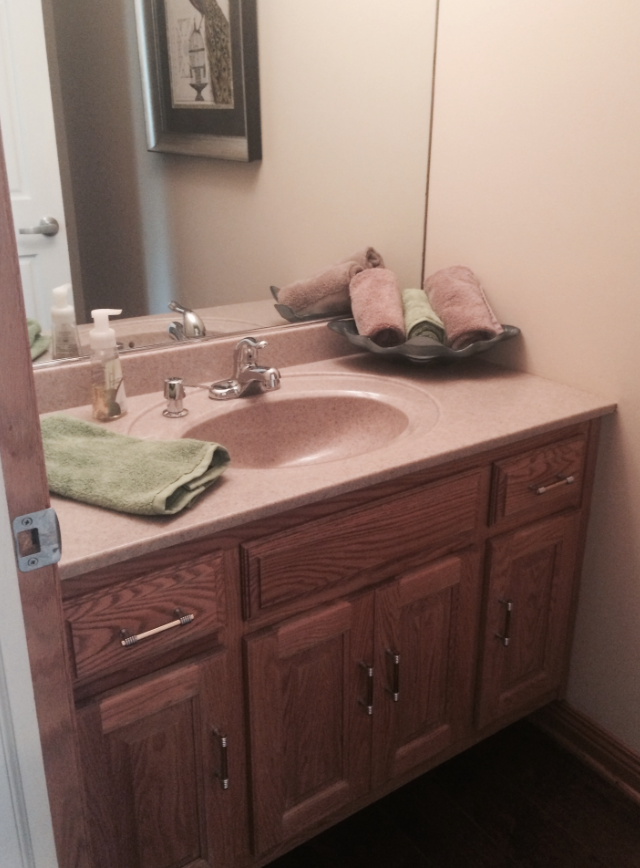 Traditional Southern Dining Room
We also updated the dining room with shades of soft blue, yellow and pink as we worked the client's existing furniture into the design.  A new chandelier, beautiful scrolled wallpaper and custom drapery panels are the cherry on top of this charming traditional dining room.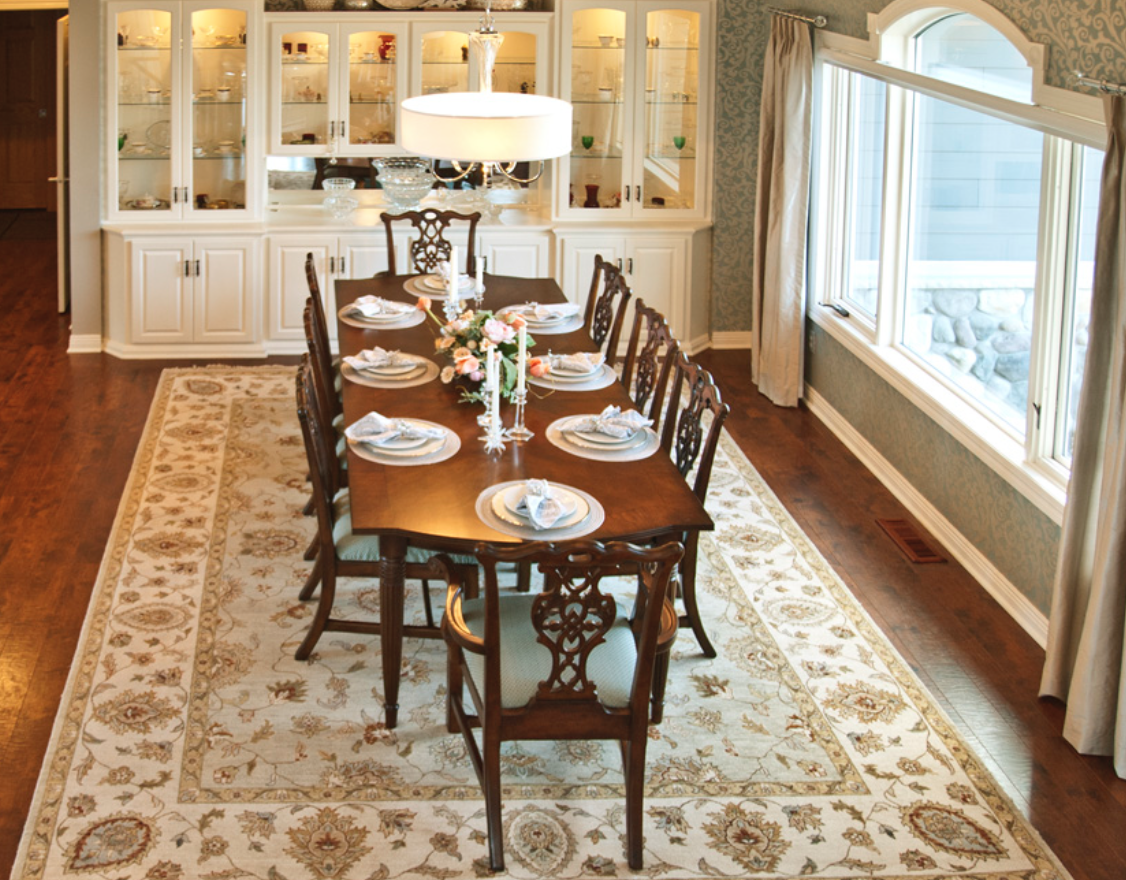 KITCHEN
This kitchen was dark and dated. We started by updating the 12"x12" dark granite tile countertops. We replaced the tile with Cambria Quartz countertops in Bellingham to immediately lighten up the kitchen space. Quartz countertops are bacteria and maintenance free, which work well for Shannon because she loves to bake yummy treats for her family.
Before:  Dark Kitchen                                After:  Kitchen Beautiful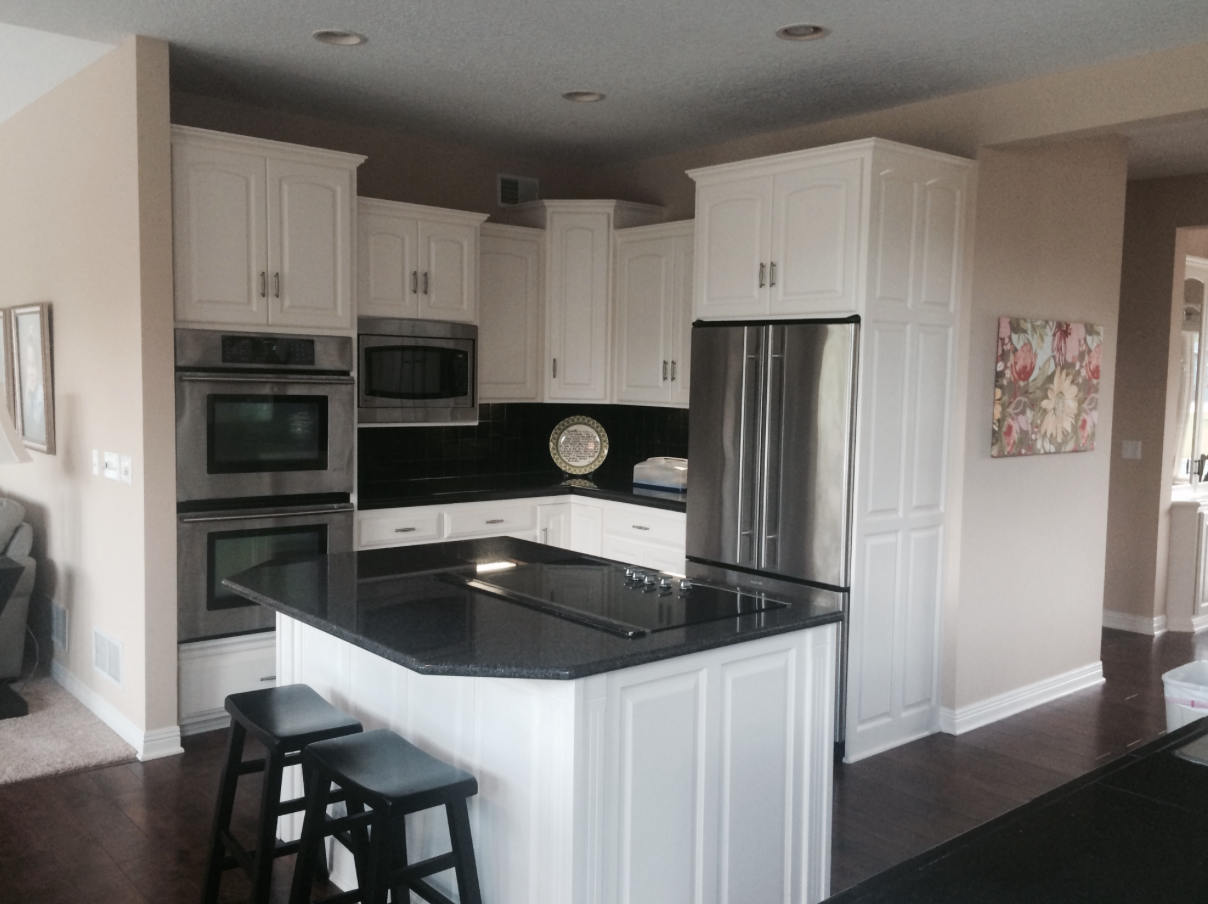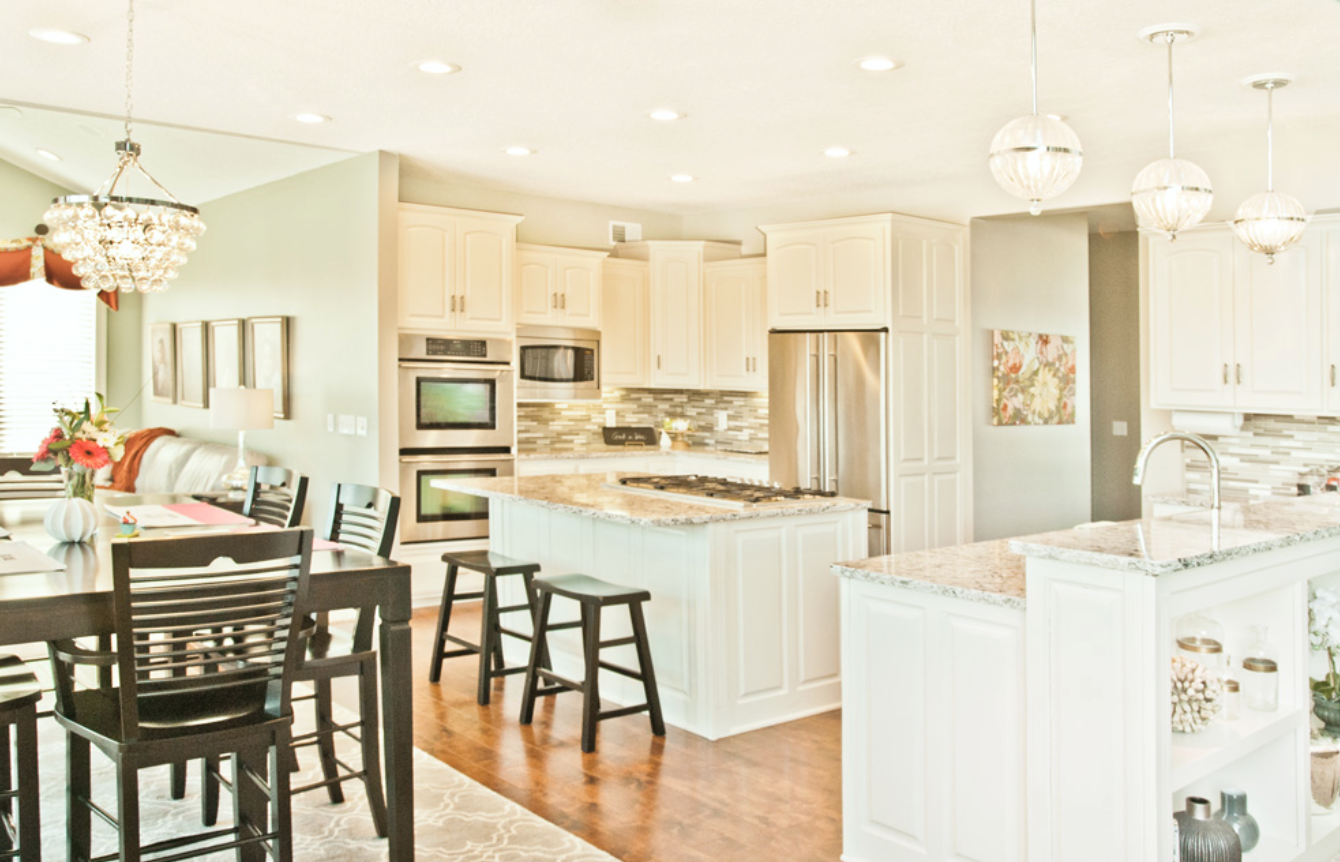 After:  Finishing Touches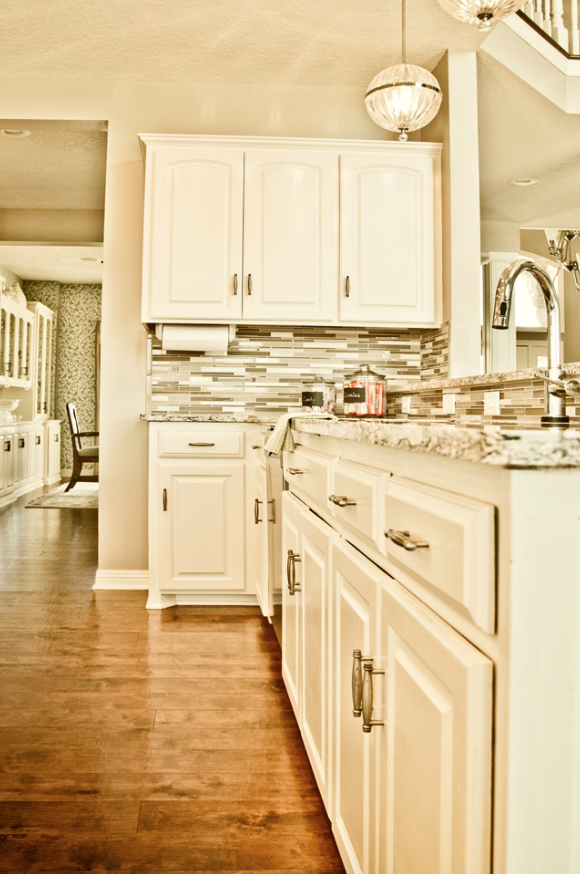 We updated the dark black granite backsplash with a linear glass and stone design. This tied in the subtle color from the quartz countertop and provided a beautiful focal point in the kitchen.  We added beautiful globe pendants and a new chandelier over the kitchen nook.  My client loves cooking, so we took out the old electric cooktop and updated to a gas cooktop. We also created a bigger island space for prep work and entertaining. We topped it all off with a beautiful new sink and faucet. This kitchen is now light, bright and functional!
INSTANT ENTRY CHARM
The handrail in the entry was light maple and didn't flow well with the rest of the space. We added a dark walnut gel stain over the light maple. This gives the entire stairway an updated deeper, elegant look! Gel stain is easy to apply, relatively low in cost for the instant updated look in the end!  The rich staircase finish, a beautiful mirrored cabinet and a pink floral arrangement create instant Southern Charm!
Please visit our entire photo gallery to view all the before and after photos of this home transformation here:  http://interiorimpressions.orgportfolio-items/minnesota-meets-south-carolina-tradition/
We'd love to help you transform your home!
Click here to connect with us:  http://interiorimpressions.org