This remodeling project is one of my favorites of all of the home transformations I've completed so far! It's not just because the transformation was so dramatic or because I had the opportunity to redesign almost every room in the entire house (every designers dream).  This was a favorite because this family has been so much fun to work with on top of everything else!
Michelle and Joe came to me looking to update a model home that was just 5 years old.  It was a lovely home, but didn't have the finishes or the fresh, modern look that exemplified their styles.  I was a little intimidated at first because Michelle is a high-powered executive project manager and she likes to get things done fast and efficiently!  My first project with them was a whirlwind deck makeover which was a surprise Father's Day gift for her husband. She asked me if I could pull off having a pergola built, purchase all new furniture for the deck and have it all completed and in place while they were on vacation for a week.  She wanted to surprise him when they arrived back home!  We started planning only a few weeks before they left for vacation.  I was thinking "Please Lord…help me pull this off or I don't think she'll want me to do the inside of the house!"  It was quite an adventure.  I felt like I was trying to pull off an HGTV makeover without any crew-members to help!  In the end it all came together beautifully.  It was one of the biggest adrenaline rushes I've had in this business.  At the end of this whirlwind deck transformation, the most important detail was that I had earned my client's trust.  They loved it!  Our next step was to begin to transform the interior of their home.  However, I did warn Michelle that we were not going to work at that kind of pace going forward!  Ha!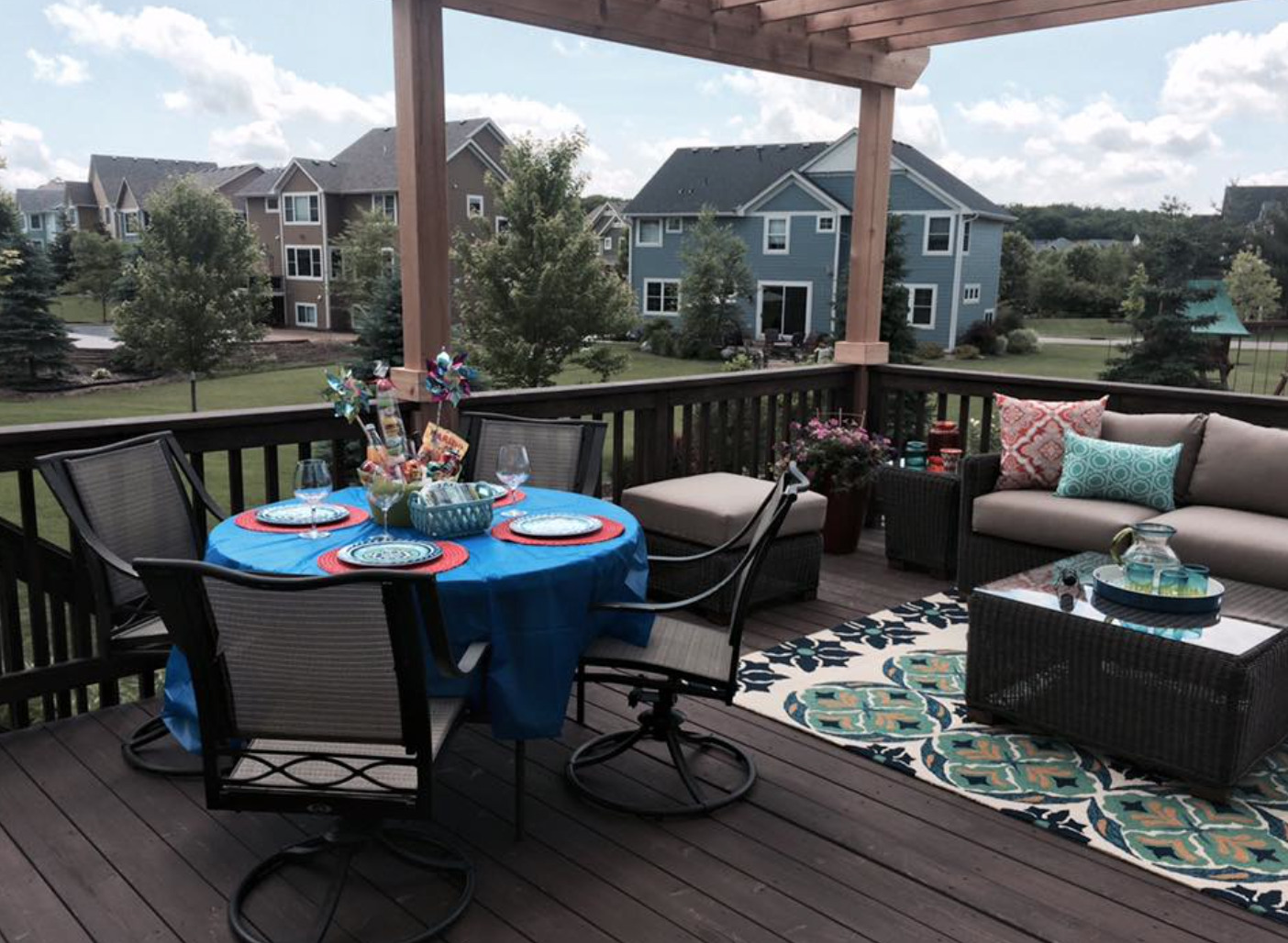 In less than a year, we have transformed the deck, kitchen, pocket office, dining room, foyer, stairway, girl's loft/playroom, Joe's office, Michelle's office, a guest bathroom, the master bedroom, and the master bathroom. We are just finishing up the final touches on the master bedroom and bathroom now (so I'll post those pictures in another blog)!
This family desired a home that looks beautiful and would withstand their very busy, active lifestyle. What I love about this family is that it's a normal day to have Michelle, Joe, their darling girls, oftentimes little girlfriends, Grandma, and their adorable puppy all running around. There's always a creative project of some sort going on, like baking and cooking (of which Michelle is so talented and is passing that knowledge on to her girls). Needless to say, quality finishes and durability were important but that feeling of love, cheerfulness and positive energy had to be in the finishing touches. I am so thankful to have been given the gift of working with this incredible family. I hope you enjoy viewing their home transformation!
The photos below showcase two of my favorite areas.  You can find ALL of the before and after photos for each of the rooms by clicking this link:  BUILDER NICE TO FAMILY FABULOUS PHOTOS
Kitchen Transformation – The Family Hub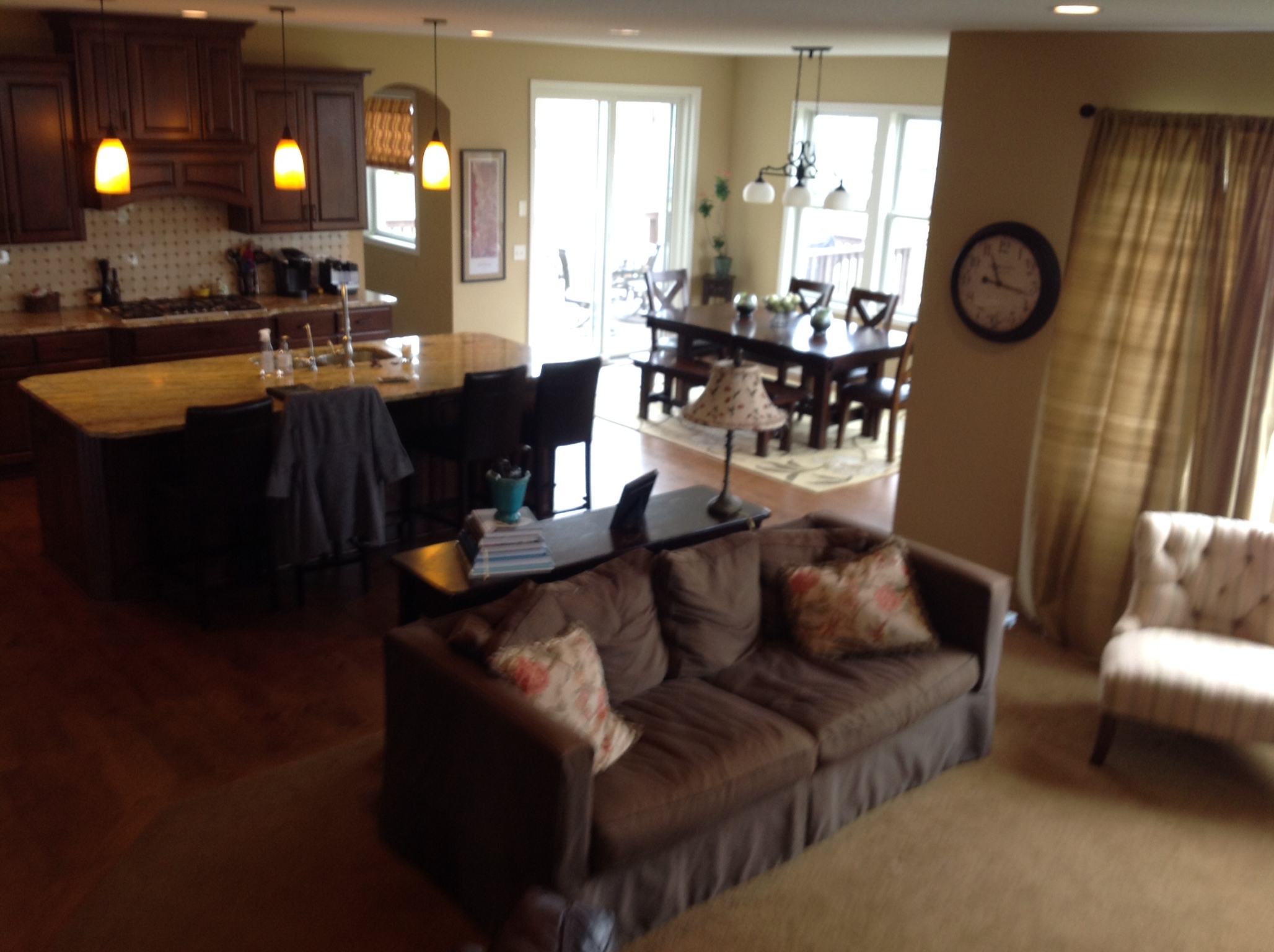 Heart of the Home – "Before" Photo
Michelle and Joe's goal for the kitchen was to brighten it up!  The kitchen felt dark and drab.  This is the gathering space where they spend most of their time together.  Michelle has a passion for cooking and baking. She spends much of her time in this space sharing her passion with her family.  They wanted this space to feel energized & cheerful, light & bright and most importantly – provide functionality on a reasonable budget. So we got busy doing just that!
Kitchen "Before" Photo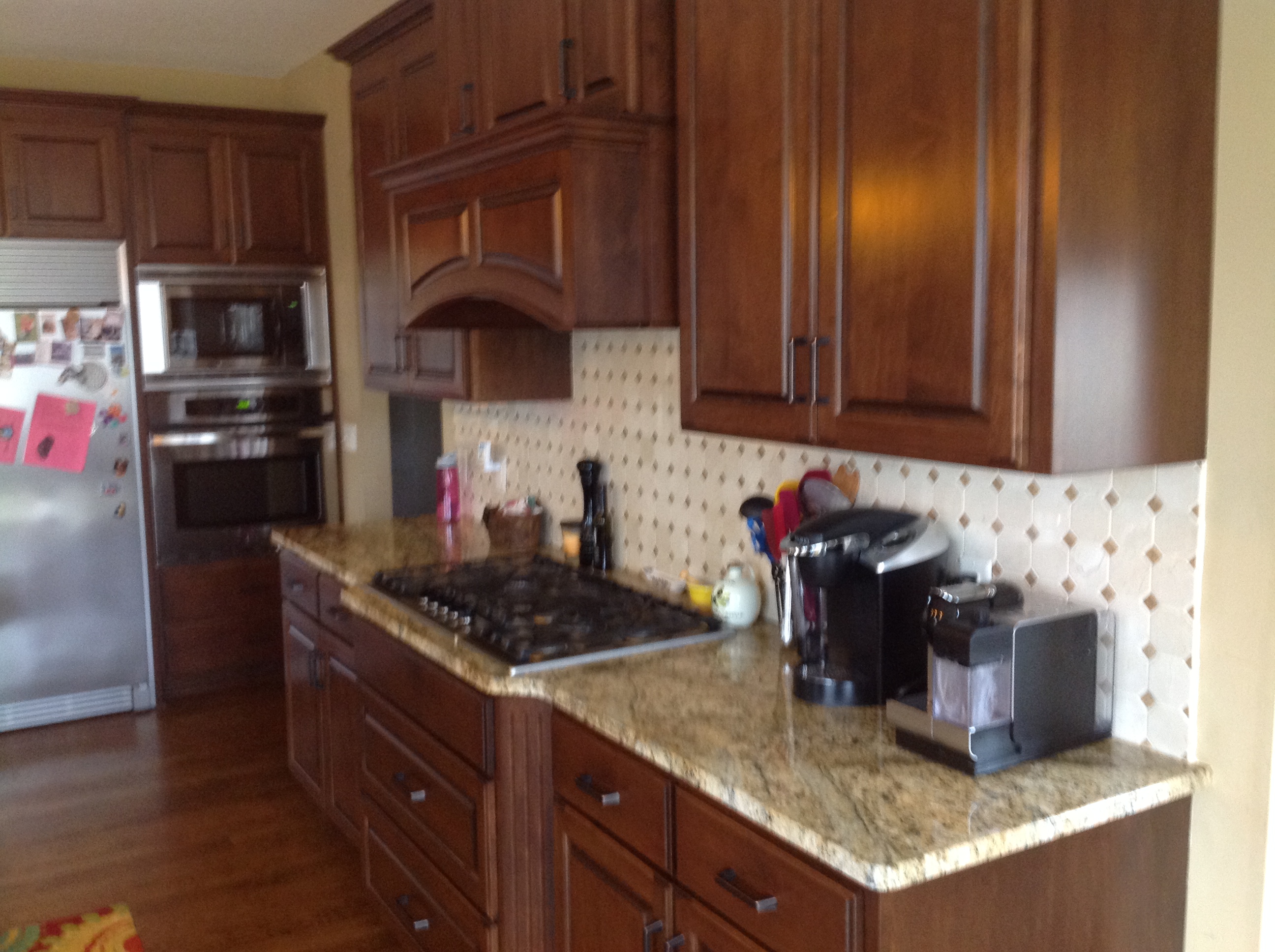 Kitchen "After" Photo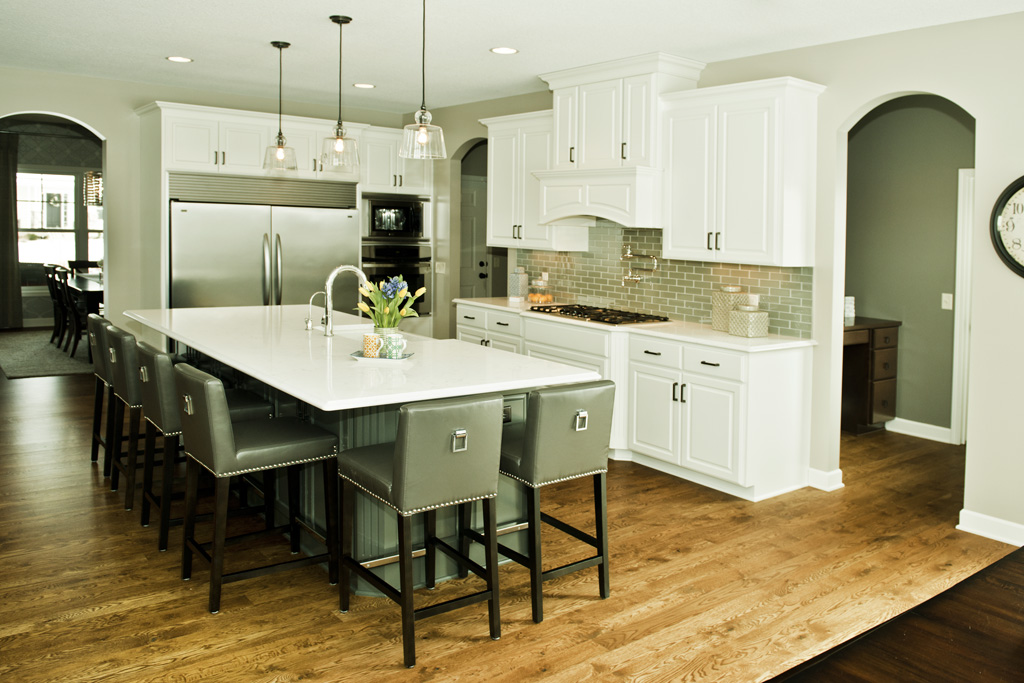 Kitchen Cabinets
Replacing or re-facing cabinets can be expensive.   These cabinets were in great condition and quality, so we chose to paint them white and add new hardware. This immediately brightened the entire space. It's amazing what a coat of paint can transform at a fraction of the cost compared to replacing or re-facing!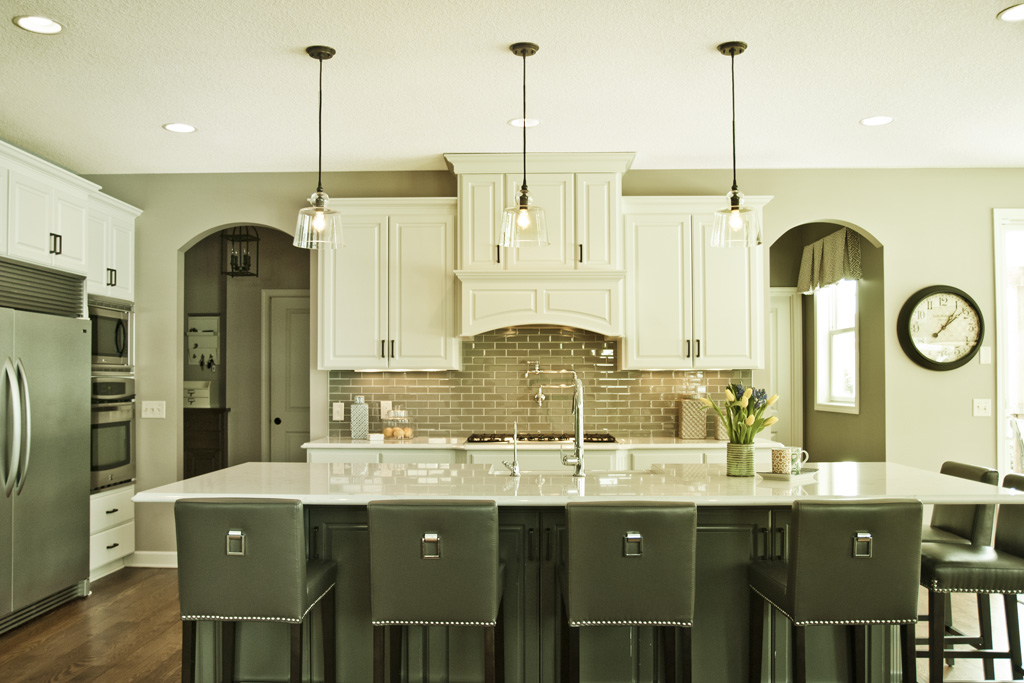 Countertop
Michelle is an avid cook and baker, so it was important to have functional countertops. We updated to Cambria quartz countertops as they are bacteria & maintenance free. This beautiful Cambria in Torquey gives the kitchen that sleek modern finish the homeowners craved.  We also extended the countertop overhang on one end to provide a "prep area" for her daughters to help in the kitchen.  They used to pull up two chairs and there wasn't an overhang at all, so it was crowded and messy.  Now there is ample space and it flows much better into the adjacent nook.
Backsplash
We used a glass subway tile backsplash to provide another level of reflection and brightness to this space. Glass tile also provides easy clean up. The stainless steel pot filler is a perfect addition for a busy cook!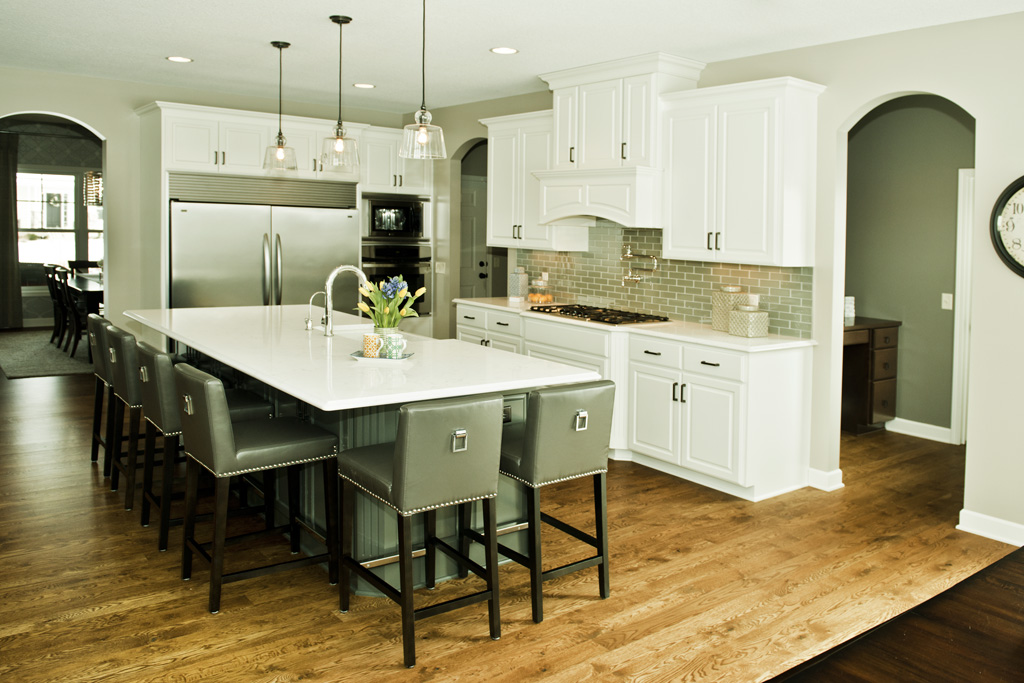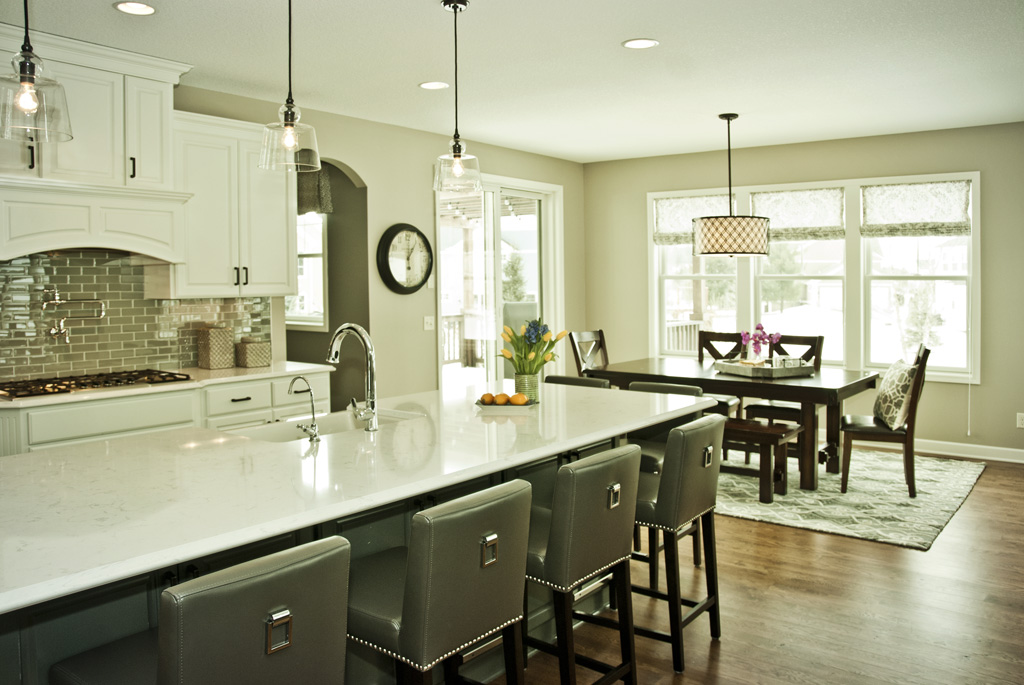 The addition of an oversized farm style sink and new light fixtures provided the finishing touches to this kitchen remodel.   We achieved the goal – it's full of energy, bright and cheerful as well as functional!
Girl's Playroom/Loft Transformation
The goal for this room was to provide storage and organization for all of the girls' toys and projects. We also wanted it to be bright and cheerful and to grow with the girls as they get older.
Playroom/Loft "Before" Photo
Playroom/Loft "After" Photo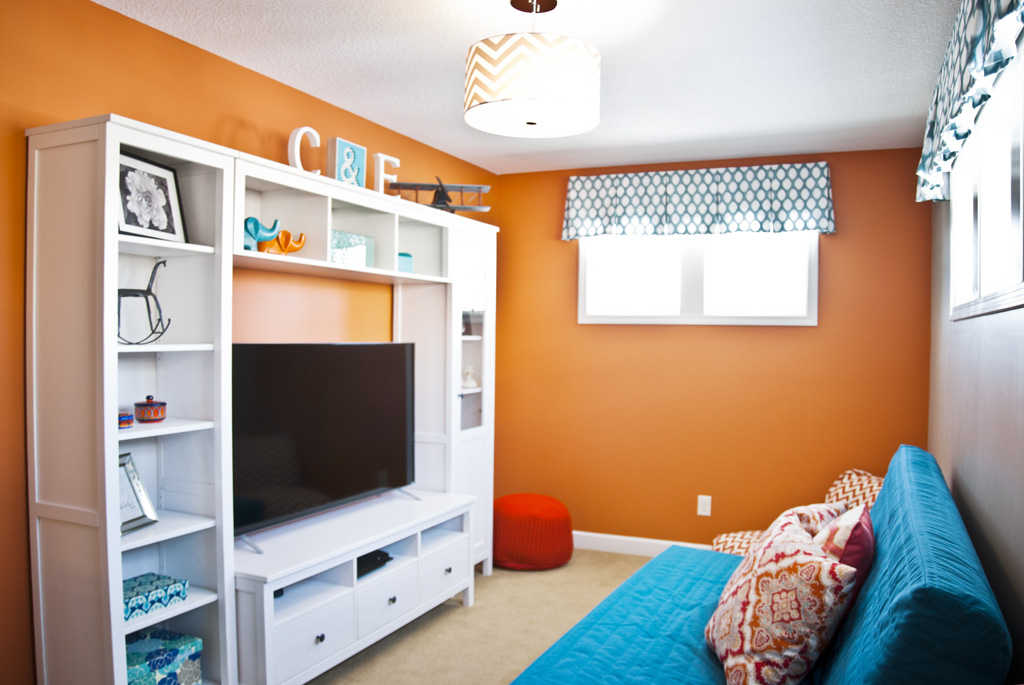 Paint
We started by adding a warm pop of color with orange on the walls. It's a playful color that isn't too juvenile and will transition with them well into their teen years.
Storage/Furnishings
IKEA is the best place to get ample storage while staying on a reasonable budget.  Sticking with white creates a clean organized space and really pops against the orange walls.  We added a desk area for the girls to work on projects and as they grow older it will become the perfect homework station.  The caribbean blue futon is the perfect place to lounge while reading or watching movies.  It's easily adjusts flat to a bed when hosting sleepovers!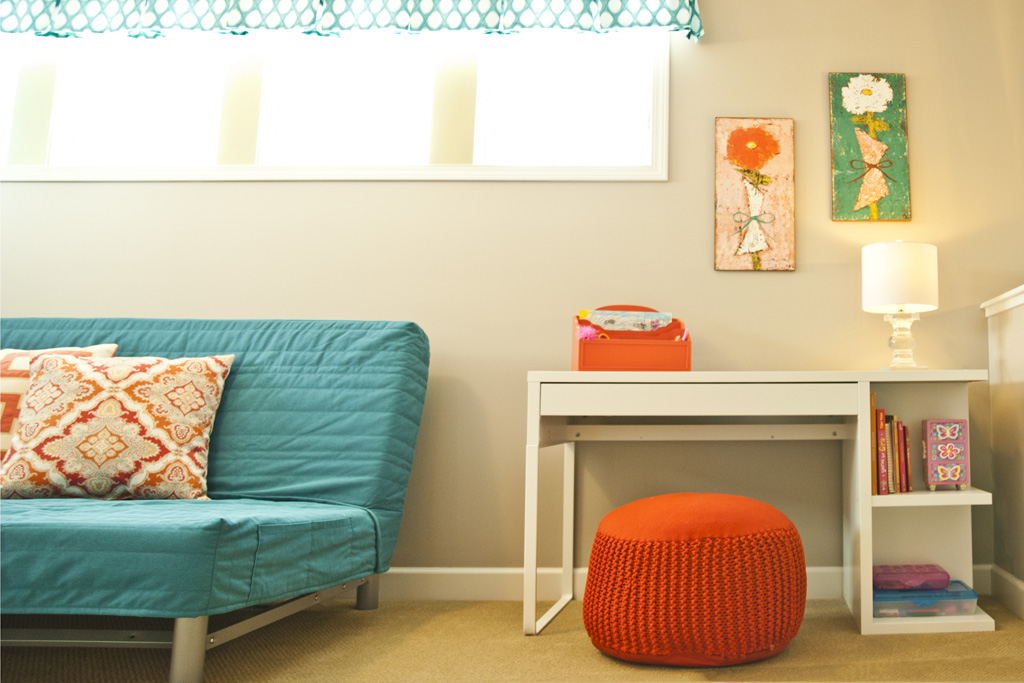 The addition of a new light fixture and custom valances bring pattern and whimsy to the room as well as tie the entire space together. This room is full of energy, organized, functional and looks amazing!
Please visit our before and after photo gallery of this entire project by clicking this link: BUILDER NICE TO FAMILY FABULOUS PHOTO GALLERY
If you are looking to transform any area of your home, please contact us. We'd love the opportunity to partner with you!  INTERIOR IMPRESSIONS