Over the past 10 months we have been to High Point, NC design market twice and Atlanta market once. We are always on the lookout for the latest and greatest design trends and new products to bring to our customers! We'd like to share some our favorites with you:
1. CITRUS COLORS
The first of the trends I will introduce are citrus colors…so hot right now. Colors like mango, lime, lemon, and bright pinks can be found in lots of accessories and bring a little sunshine and happiness into our homes 🙂
A pop of these vibrant colors would go wonderfully with grays! Have some gray walls that need an eye-catching accessory? Spruce up that gray with pops of citrus goodness. If you are feeling bold, check out some of these vibrant pieces that caught our eye…or these awesome bedroom accessories!
2. NAVY & DEEP BLUES
You will continue to be seeing Navy and deep blues in 2014. These colors bring a touch of regal elegance to a room and pairs beautifully with vintage gold or Matte brass finishes.
What else is in right now? Rustic wood with metals. We are seeing this "Restoration Hardware" look everywhere! There's something warm and homey about reclaimed wood. The highly polished mahoganies and cherry woods have been pushed to the side, and we are welcoming woods that are highly rustic and distressed and seem to have a story behind them. The other great thing about rustic wood is that it is very family-friendly. Isn't it great that your kids can beat it up and you can't even tell the difference?
There is more rustic to come…
Who doesn't love a good set of antlers? Animal heads and prints are very in right now. There is also some play with "hair on hide" which is the designer term for cowhide or leathers that have hair on them. We are seeing this look on a lot of home accessories and furniture as a whimsical yet rich accent…what's not to love?
4. RADIANT ORCHID (PANTONE COLOR OF 2014)
Make a bold statement with a radiant orchid piece. If you are feeling really adventurous, you could find the perfect radiant orchid office chair or foot stool. If you want to keep it subtle, try a pillow with pops of this year's color!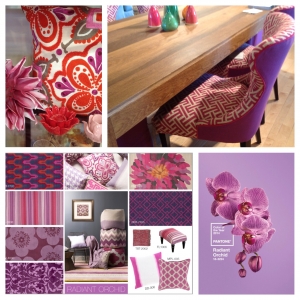 5. NAUTICAL
Sail away…
There seems to be something so classic and timeless about the nautical style. It does not seem to be losing popularity or going away anytime soon. Maybe because there's something so restful and peaceful about the water – Who doesn't love that?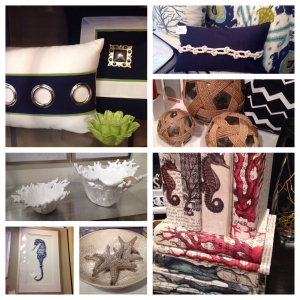 6. PATTERNS
Have you been seeing these trendy patterns? We've been seeing these patterns everywhere! Who knows how long they will be popular or if we will tire of them sometime soon, but for now, we are loving the geometrics and having a lot of fun mixing them into our current decor. Ikat, Chevron, Houndstooth, Moroccan lattice, Quattrefoil, Suzani, Etc.  Watch for an upcoming blog on what all of these terms mean!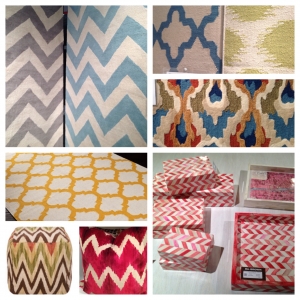 We hope that we leave you with some inspiration for how you want your dream home to look and feel! Keep your eyes peeled for future posts. Next up will be our year of 2013 in review!