You know it's fall when the leaves begin to change color, the air has a chill to it and bonfires have a new purpose (we actually need the warmth of the fire).  It also means Halloween is just around the corner! Halloween is the first of several celebrations that lead us into the season of holiday entertaining.
Usually Halloween falls on a weeknight and with that comes the mad rush from work to home, throwing dinner together, getting the children dressed in their costumes between answering the door to pass out "treats" to those early trick or treaters!  The good news is this year Halloween falls on a Saturday! Whether you have kids or not, this is a perfect time to host a Halloween gathering!  Typically Halloween is all about the kids….what if we "shake things up a bit" and claim a part of the weekend to celebrate Halloween Adult Style?  Count me IN!
I hear from a lot of my clients and friends that the reason they don't host a party is because it's too much work or they don't have enough time.  My goal in writing this post is to give you a few easy tips to create a successful "spooktacular" Halloween party!
Decor
There is no need to go rummaging through your basement to dig out all the Halloween themed decor.     I love the idea of combining the natural elements of fall and Halloween to create a party with a rustic, elegant feel.  Reclaimed wood and barn wood are a great way to add texture and give your home an outdoor rustic feel.  To save money simply collect natural elements from your own backyard!  Natural grass, plants, branches from trees, pinecones, rocks and the addition of pumpkins can make some of the best decorations.  To add a DIY element to your party, set up station to paint and decorate pumpkins or glassware.  The only supplies needed are paint, brushes, stickers and sticky backed gems for added bling!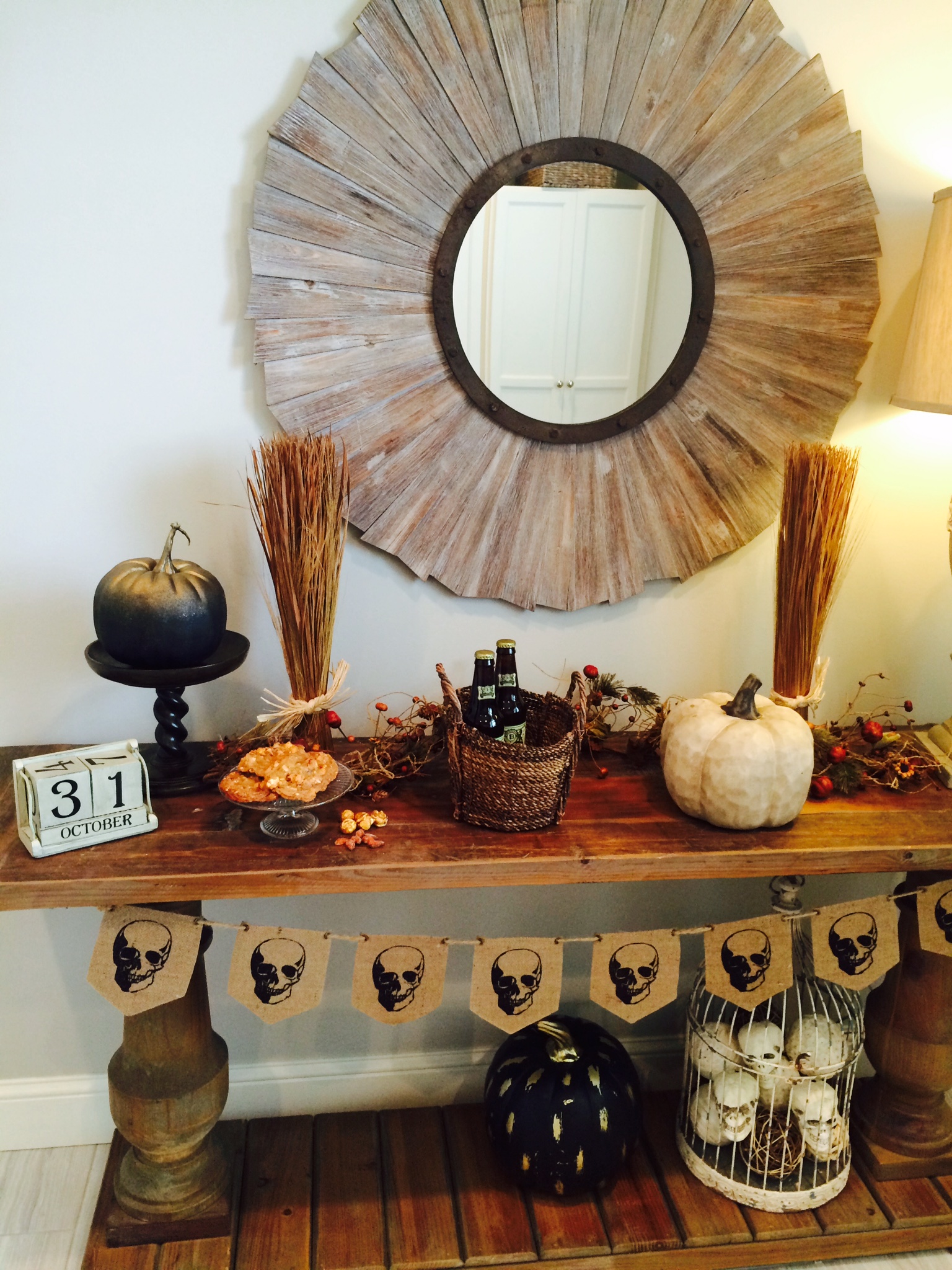 Tip:  Above we've used a natural wood backdrop for our decor and keeping all of the elements in a neutral color palette to create warmth and elegance.  We've added the natural grass bundles and painted a couple pumpkins black with a touch of silver.  Simple elegance.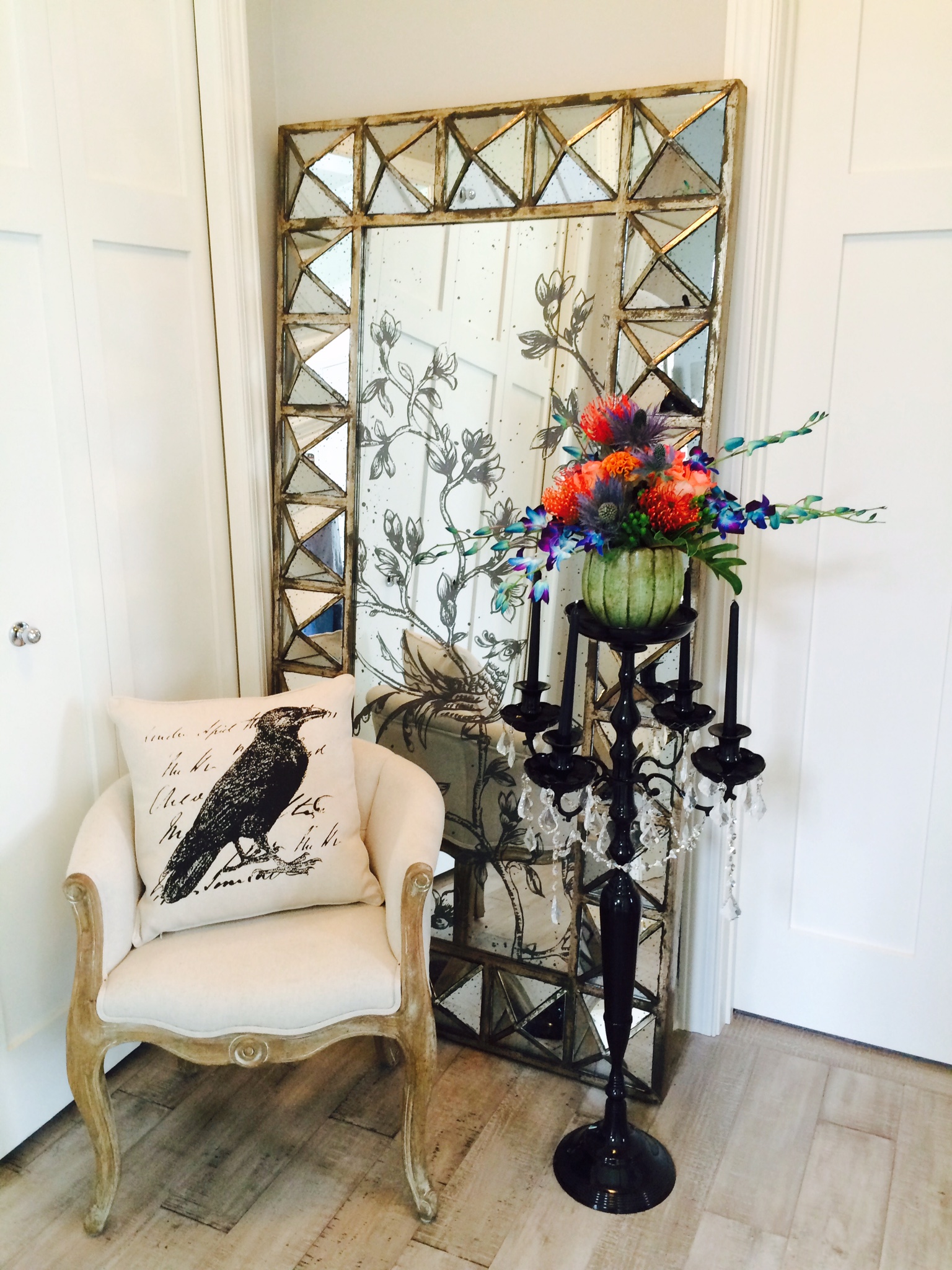 Tip: The front foyer of your home is the perfect place to set the mood for the party.  I love the black crow toss pillow on the chair to add an element of Halloween.  Use a candlestick in a surprising way – add a custom floral arrangement on top for a pop of color and interest!  This arrangement was made by Kowalski's Market in Woodbury.  http://www.kowalskis.com
Food
A party isn't a party without food!  Most people don't realize that food becomes part of the decor for the party.  Keep the food simple.  Set up separate stations with finger foods to encourage your guests to mingle and chat.  There are less utensils when serving finger foods which equates to less dishes for you!   Stay away from too much sugar and chocolate as it is everywhere we turn around from now until January 1st!  Instead create a simple signature dessert in single serve containers or bite-sized portions. Your guests will thank you later!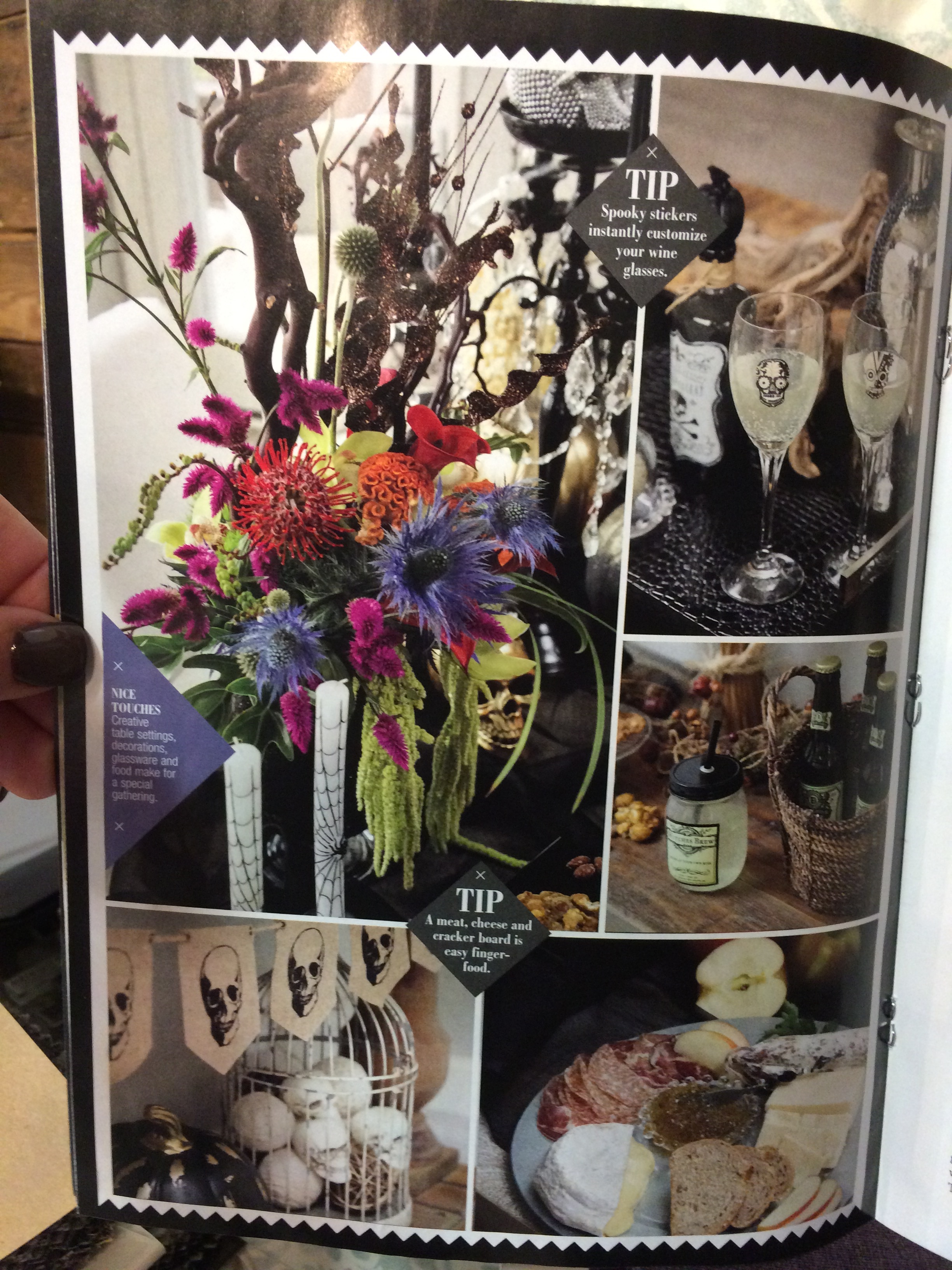 Tip:  We had the opportunity to work with Woodbury Magazine and Racheal Perron, culinary director at Kowalski's Market to create a party perfect Halloween!  Rachael suggests focusing on seasonal foods, serving a carmel corn cookie, simple meat, cheese and cracker board, as well as a mini sandwich station in keeping with the finger food theme.  If you choose to serve a main dish, soup is a perfect choice as it can be made ahead and kept warm in a crock pot.  It only requires a spoon and can be cleverly served in a mug!  Pair all of this with a signature drink and you are set!  To jazz up your everyday stemware, add a Halloween themed sticker.   Effortless entertaining at it's best!
FUN for ALL:
It is easy to create a fun and inviting atmosphere by being intentional with your party setting.  The first and most important element of your party setting is ensuring your rooms are set up for guests to mingle with ease.  One of your first steps is to rearrange your furniture so your guests can chat and grab food without being stuck in the corner of your kitchen!  You may need to move your couch or place a table in a different spot.  I love the idea of creating little spaces for guests to gather.  This can be done by designating different areas for each dish and drink.  Guests are then motivated to move around and this creates a chance to chat and mingle with different people.  Adding a DIY station for crafts or decorations can be a fun way to add an interactive experience for your guests.  Plus it's a gift for them to take home at the end of the night!  Keep the project simple:  paint mini pumpkins, or have sticky gems/decorations to place on the pumpkins, decorate candlesticks or have your guests decorate their own glass with stickers or paint markers.  Planning the space ahead of time will create a perfect party setting.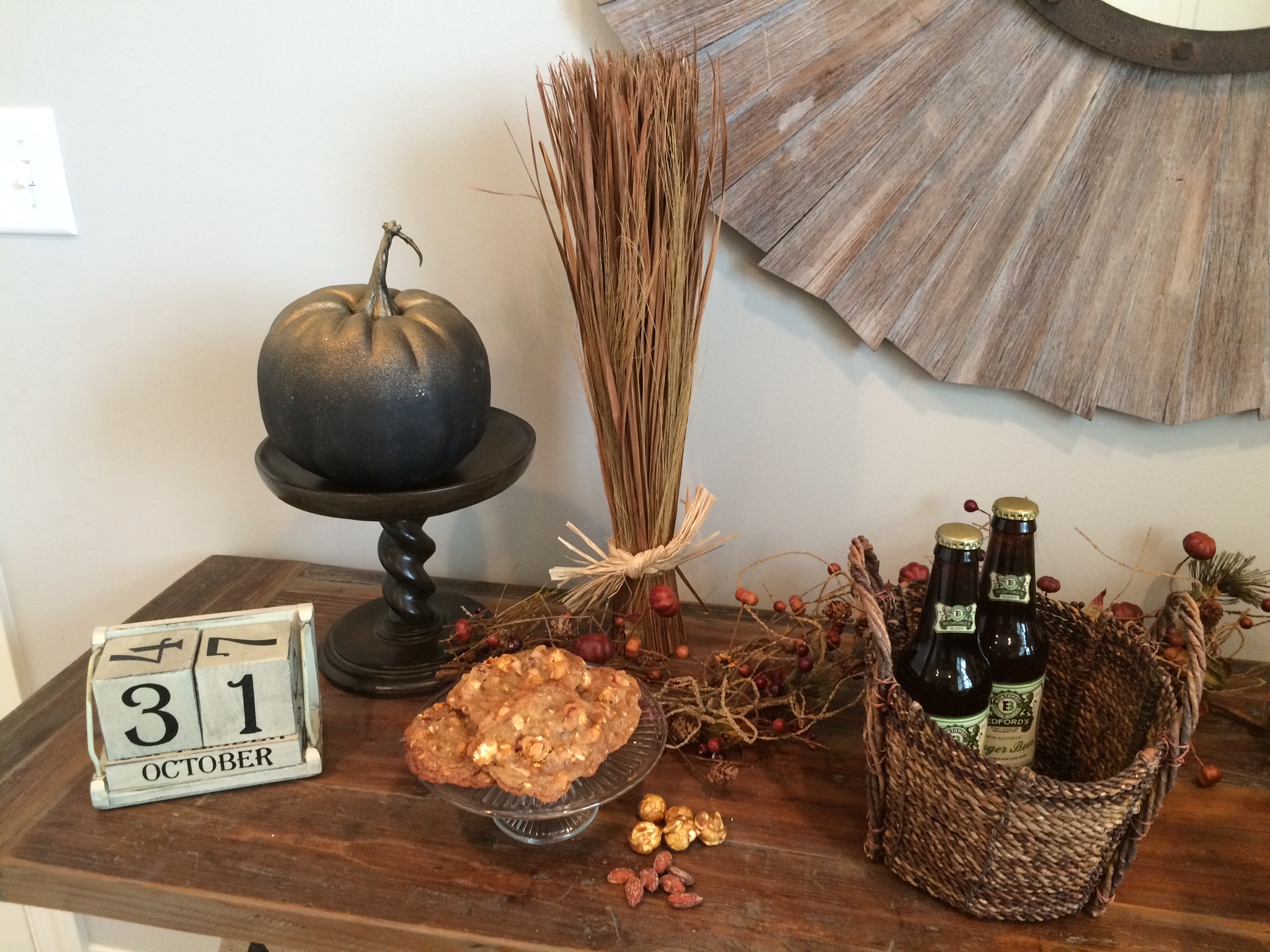 Tip:  Create a dessert and drink station for guests.  It can be as simple as serving one signature dessert and a complimentary signature drink.
There's just a couple weeks until Halloween weekend.  I hope these simple tips will inspire you to host a simple yet "spooktacular" Halloween party!  Check out our featured story in the October Issue of Woodbury Magazine for more ideas.   If you don't have a copy of the magazine, click on the link to subscribe.   http://www.woodburymag.com
Wishing you a "Spooktacular" Halloween!